Picked up this new addition to the family as of 2014. She's a solid 1999 Jeep Wrangler TJ Sahara edition. Admittedly she was bought with a 4″ lift and 32″ tires already on her, and I know I am a huge advocate of the "built" not "bought" mentality- but the price of the jeep with the low miles on it (155,000km or 96,000 miles for you Americans) was too good to pass up.
The Frame had nothing but some surface rust that I have been working to restore before it gets out of hand (I'll post that up in the How-To section when I finish!). 
Now with all that being said, the previous owners did take a couple of short cuts in their minor build of this jeep, so there is plenty of room to "build" it to where it should be under my direction!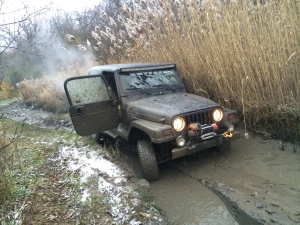 Here is where we currently sit with modifications to the Jeep – To see how the Jeep performs with the current mods listed below make sure you check out our off-roading videos.

The jeep will see more trails and mud than it will rock crawling. So my intention will be to build a good, reliable Jeep that can still be daily driven (splits time with my Camaro in the summer) but handle a pretty "advanced" off road trail / course. This should fall somewhere between being built stronger than a weekend warrior, but not as strong as a 100% dedicated off-road machine.
Suspension
4″ Lift with Bilstein 5100 shocks

1-1.25″ transfer case drop

 Relocated front track bar

 Relocated rear track bar

 ZJ Tie-Rod upgrade (write up here)

 Front and Rear sway bar disconnects (rough country)
Drivetrain
Dana 44 rear end with detroit trutrac
Lighting
50″ Curved Cree LED bar

Rough Country Jeep light bar brackets (modified to fit curved bar)

Ebay LED headlights

Flush mount 40w lights mounted into the rear bumper
Safety / Recovery
Warn 8500 winch

Synthetic rope has replaced the steel cable (for safety purposes)

Mounted fire extinguisher
Body / Exterior
Milk jugs deleted from bumpers

Mammoth 8 Bead lock rims / 33″ tires

Barricade Front Tube Fenders

Barricade steel rear body armour
Electronics
Alpine radio with Ipod hook up

Alpine 6.5″ rear speakers
Interior
Engine
Modifications waiting to be installed
Metal Cloak upper and lower Rear control arms

Planned modifications
Front stinger (safety)

SYE with CV driveshaft

D30 LSD unit
There will be plenty more modifications to come as we research and test the full capabilities and limits with the setup as it evolves going forward. So far she has proved pretty capable on the trails accessible here in Canada