After having a number of problems with my previous 4L60E transmission not wanting to shift out of 2nd gear when I was at the race track; picking up a low mileage transmission and adding a shift kit was in order. So I went out and picked this up.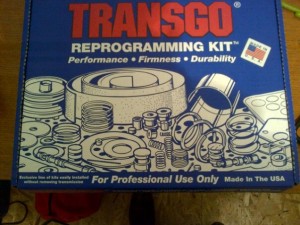 Transgo HD-2 Shift kit as well as a new corvette servo (not pictured) and I went to work. I put everything except for the clutch spring kit into the transmission since to install that piece you have to fully disassemble the transmission.
I also went out and found this sucker. 4l60e with supposedly 60k on it and I scooped it for about $250 from the wrecking yard. Not a bad deal, and she's held up for a season so far.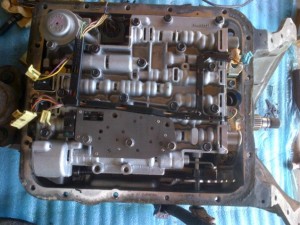 This is what you are going to see when you get the transmission filter out of the way. You've got to be very careful of the electronics in here. You don't want to be breaking any of these wires. Now that you're this far, this is when things start to get fun.
You know when you remove a part like say… the valvebody and just as you pull it off you hear all the check balls fall out and run around the maze like structure in front of you as you scream F*CK because you don't know if they might fall into a blind hole?…ya, this is one of those times. I don't think there was any holes they could fall into though so don't worry, just make sure you find all 7 of them
***I want to add a quick note here, if your separator plate is damaged, buy a new one, they're only about $25. Secondly, get rid of the metal check balls and replace them with lighter "Ford torlon check balls." These are a strong plastic that are resistant to wearing, yet they seal better than the metal balls and they don't damage your check plate like the metal balls do.
This is the valvebody totally removed from the transmission. It is hard to see, but each of the valves contained within this body are held in by little clips, kinda like a C-clip
I scanned the instructions from Transgo as well. I did this for two reasons:
In case I got transmission oil all over my only set and ruined it.
It let me visualize what every step was that I needed to do. For that reason, I'll post a copy of the instructions from Transgo Below:
Lastly, this is a link to an install video on Transgo's website. I watched this video a couple of times. Although some of the process have changed a little bit, watching the video really helps you see how some of these parts come a part if you were to get stuck.
http://transgoonline.com/4L60E_HD2Video.html